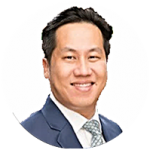 Designation: Senior Consultant, Colorectal Surgeon
Qualifications:
MBBS (Nottingham),
MMed (Surg)
BMedSci (Nottingham),
FRCSEd, FAMS
Sub-specialty:
Surgical Interests:
Colorectal Surgery; both open and minimally invasive surgeries

Laparoscopic (key-hole), single port surgery, robotic surgery and transanal endoscopic operation (TEO)

Believes that each surgery should be adapt and tweaked to each individual patient's unique case and situation, with minimal impact on patient's lifestyle
Adept in the field of Endoscopy (colonoscopy and gastroscopy), including endoscopic stenting and endoscopic mucosal resection (EMR).
Proctology
Languages spoken:
English
Mandarin
Hokkien
Teochew
Profile:
Graduated from University of Nottingham, UK, with his medical degree
Prior to obtaining his medical degree, Dr Koh also took a year off and obtained a Bachelor in Medical Science.
Further his medical education and embarked on his surgical training in Singapore.
Obtained Master of Medicine in Surgery from National University of Singapore in 2005.
Completed his advance surgical training with Singapore General Hospital and became a fellow of the Royal College of Surgeons of Edinburgh in 2009.
Admitted as a Fellow of the Academy of Medicine (Surgery) of Singapore in 2009.
Was awarded the SingHealth Health Manpower Development Plan (HMDP) Award and further his training in Hôpitaux Universitaires de Genève (HUG), Switzerland.
Was a consultant surgeon in the Department of Colorectal Surgery in the Singapore General Hospital.
Further honed his skills in proctology and pelvic floor disorders during his fellowship in Geneva. These include conditions like haemorrhoids (piles), anal fistula, anal fissures, anal abscesses, functional constipation and faecal incontinence.