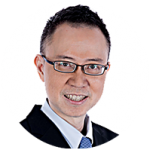 Designation: Medical Director and Cardiologist
Qualifications:
MBBS
MRCP (United Kingdom)
MPH (Harvard)
FACC
FAMS
Sub-specialty: Cardiology
Clinical Interests:
Special interest in non-invasive imaging and management of heart valve disorders and coronary artery disease.
Plans structured lifestyle therapy programs for patients to reverse or slow the progression of coronary artery disease, as well as treat other lifestyle related conditions such has hypertension, high cholesterol, diabetes and obesity; thereby reducing reliance on prescription medications.
Languages spoken:
Profile:
Graduated from National University Singapore in 1999, with an undergraduate medical degree
Trained in internal medicine and became a member of the Royal College of Physicians UK in 2002.
Underwent specialty training in general cardiology at the National Heart Centre Singapore
Received a scholarship in 2007 to pursue subspecialty training in preventive cardiology and cardiac rehabilitation at the Mazankowski Alberta Heart Institute (MAHI), one of the leading heart institutes in Canada.
Awarded a second fellowship to train in advanced adult echocardiography at the MAHI in 2008

Learned to use contrast echocardiography to improve the accuracy of assessing heart function and diagnosing coronary artery narrowing without the need for ionizing radiation.
Gained experience in the diagnosis and evaluation of valvular heart disorders using newer 3-D echocardiography techniques to aid planning and guiding of both surgical and minimally invasive treatments.

Returned to the National Heart Centre, where he further developed aforementioned skills by providing echo support for various valvular and structural procedures, and was part of the pioneering team of percutaneous mitraclip implantation in the treatment of mitral valve regurgitation.
Graduated from Harvard University in 2013 with a Master's in Public Health
A certified clinical exercise specialist by the American College of Sports Medicine (ACSM), and is proficient in cardiopulmonary exercise testing for the diagnosis and evaluation of cardiac conditions, as well as optimization of fitness.
Board-certified in cardiovascular computed tomography (CBCCT U.S.A).