Checking on your blood cholesterol levels can play a vital role in identifying possible health concerns in their early stages, allowing you to take proactive measures to manage them before they worsen. This is because high blood cholesterol is closely linked to an increased risk of developing heart disease and stroke, which is primarily caused by the build-up of cholesterol and fatty deposits in the arteries. Let us take you through the different measurements analysed in a blood cholesterol test and help you understand what these measurements actually mean.
What is measured in a cholesterol test?
When conducting a blood cholesterol test, also known as a lipid profile test, a small blood sample is taken from your arm. The procedure usually takes a few minutes and is relatively painless. A standard cholesterol test will provide numbers for the following readings:
Total cholesterol
Total cholesterol levels represents the sum of all cholesterol in the blood, including high-density lipoprotein (HDL) and low-density lipoprotein (LDL) cholesterol.

High-density lipoprotein (HDL) cholesterol
Referred to as the "good cholesterol," HDL cholesterol plays a vital role in eliminating excess cholesterol and fat from blood vessels, transporting it to the liver for processing.
Low-density lipoprotein (LDL) cholesterol
Known as the "bad cholesterol," LDL cholesterol can lead to the accumulation of artery-clogging plaques, potentially causing reduced blood flow when levels are elevated.
Triglycerides
Triglycerides are another type of fat in the blood, formed from excess calories in the body. Elevated triglycerides levels are also associated with an increased risk of cardiovascular disease.
Do I have healthy cholesterol levels?
Here's a guide on how your blood cholesterol test measurements can be classified.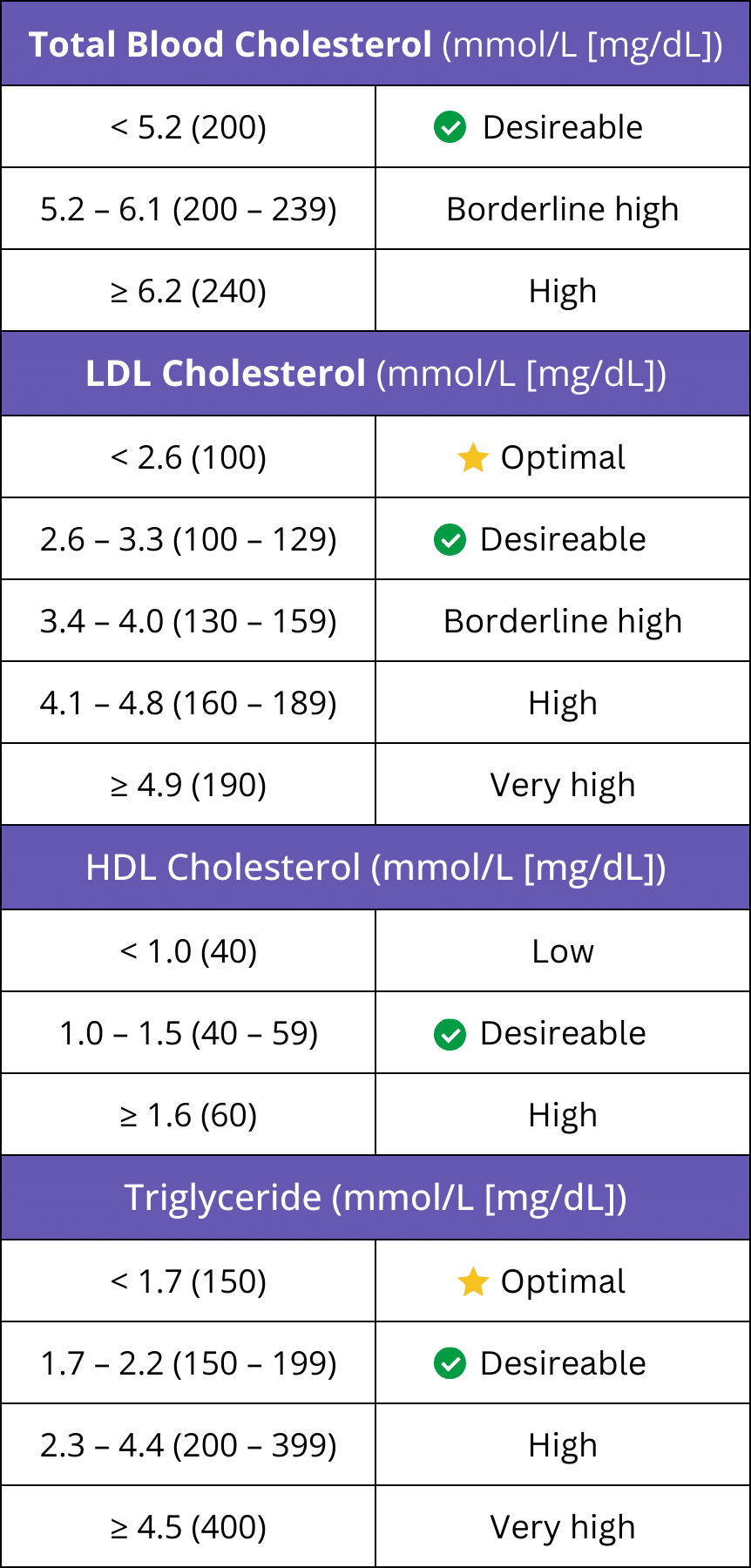 Source: MOH Clinical practice Guidelines
Should I get my cholesterol levels checked?
High blood cholesterol, much like high blood pressure, is a silent disease that can only be detected through a cholesterol test. Regular cholesterol screening is recommended for adults above 40, or with risk factors such as obesity, diabetes, smoking, physical inactivity, and family history of high cholesterol. Additionally, other medical conditions or pre-existing conditions such as heart disease and stroke can also elevate your risk of developing high cholesterol.
It is worth noting that cholesterol levels are just one part of the broader picture of your health, and regular health screenings can provide you with other essential tests for a holistic assessment of your health. If you have concerns about your cholesterol levels or heart health, it's best to speak to a doctor to discuss specific risk factors and receive a personalised plan to effectively manage your heart health.