What can your urine tell you?
Excretion of urine generally regulates your body's balance of water and often helps your body get rid of substances that are produced during metabolic processes and are no longer needed by the body. This means that your urine can tell a lot about your current health status, even with just a simple Do-It-Yourself (DIY) urine dipstick test.
What is a DIY urine dipstick test?
This DIY urine dipstick test checks the appearance, concentration and content of your urine, which in turn will be used to detect and/or manage a wide range of medical disorders, such as urinary tract infections (UTI's), kidney disease and diabetes.
The urine dipstick is usually a thin, plastic stick with strips of chemicals on it. Once the dipstick is dipped into your urine, the chemical strips on it will change colour accordingly to:
the presence of certain substances in your urine and/or
if certain substances' levels in your urine are above or below normal levels
With the colour changes, the urine dipstick will highlight the presence of compounds such as proteins, glucose, ketones, hemoglobin, and nitrites.
How to perform a DIY urine dipstick test?
Do this test while on a full bladder first thing in the morning.
Pass a small amount of urine into the toilet.
Midway through urination, pee onto the dipstick.
Remove the dipstick and see the colour change on it.
How to read your urine dipstick test results?
Please note that the below colour chart is for general references. DIY or home use urine dipsticks are NOT intended for self-diagnosis purposes, do not replace microscopic or urine culture examinations and should only be used in consultation with your doctor.
To seek a clearer understanding of your urine dipstick test results, please consult your doctor.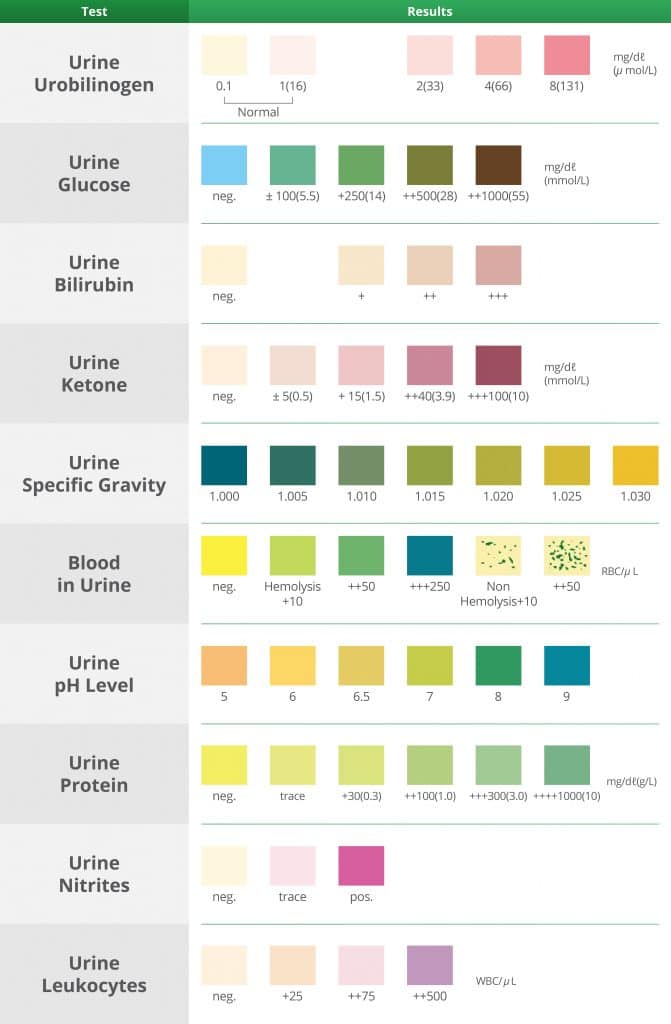 Urine dipstick colour chart
If you're interested in learning more, keep reading about what each part of the dipstick test means.
Need help understanding your results or your urinary health?