Understanding Skin Cancer : Types, risk factors, and early detection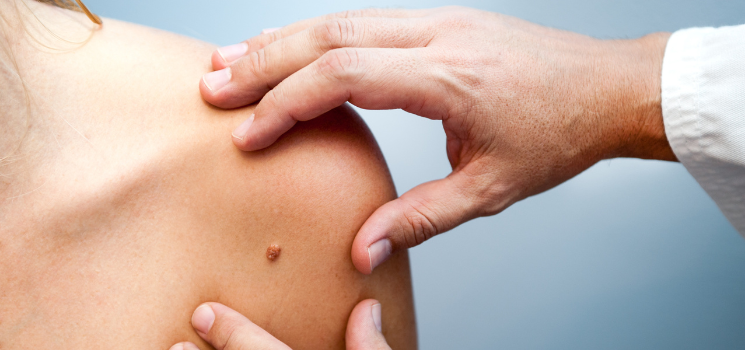 Skin cancer is a growing concern for many individuals, and understanding its various types, risk factors, and the importance of early detection is crucial. In this article, we will explore different aspects of skin cancer to help you stay informed and proactive in managing your skin health.
What are skin cancers?

Skin cancers occur as a result of abnormal growth of skin cells. The most common types include melanoma, basal cell carcinoma and squamous cell carcinoma.
Melanomas arise from the pigment producing cells called melanocytes, the cells responsible for pigment. This is an aggressive form of skin cancer which can spread quickly.
Basal cell carcinomas and squamous cell carcinomas, also called non-melanoma skin cancers (NMSC) and are more prevalent but less aggressive.
Am I at risk?
While anyone can develop skin cancer, some of these risk factors increase your susceptibility to it:
Fair-skin
Family members who have skin cancer
Frequent or excessive sun exposure in the past
Conditions that lead to a weakened immune system
Skin that sunburn or freckle easily
Signs to watch out for
Basal Cell Carcinoma
This typically appears as pearly red or pale bumps that may occasionally ulcerate. They grow slowly and often emerge on sun-exposed areas such as the face, neck and arms.
Squamous Cell Carcinoma
Look out for persistent rough patches or red growths that may become crusted or bleed. This form of cancer also tends to occur at sun-exposed sites. They are more likely to spread to other parts of the body, and may become life-threatening if left untreated.
Melanoma
Melanomas are particularly dangerous due to their higher propensity to spread if not treated early. They may appear as a new dark spot or arise from existing growths that have changed in size and appearance. They typically appear as pigmented growths with irregular edges and varying colours. They do not often come with any symptoms, but some individuals may experience bleeding, itch or pain.
How can I detect skin cancer?
Early detection through skin cancer screening is crucial. To screen for skin cancer, a dermatologist will perform regular examinations to identify changes in existing skin growths over time. This facilitates earlier diagnosis and treatment at the pre-cancerous stages.
What to expect during a skin cancer screening?
During your scheduled skin cancer screening, your dermatologist will begin with a consultation which usually starts with a review of your medical history to assess risk factors.
This follows a full skin examination which aims to identify suspicious skin growths. If any growths raise concerns, a simple biopsy may be recommended. A biopsy is a simple procedure which involves removing part of the growth or the entire lesion, which is then sent to a laboratory for analysis.
Don't delay treatment if you have concerns about skin cancer. Book an appointment with Dr Kok Wai Leong, our senior consultant dermatologist, for a comprehensive skin cancer screening.